Florida-Aquastore, an authorized CST dealer serving the water storage and wastewater market across the state of Florida, the Caribbean, and Central and South America, has completed construction on two glassfused-to-steel tanks at Point Lisas in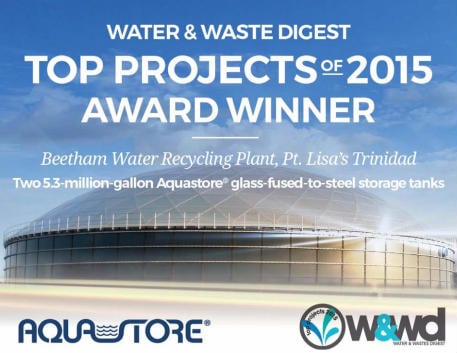 Trinidad – the twin island country off the northern edge of South America. The tanks were part of a $167,000,000 USD upgrade to the Beetham Wastewater Treatment Plant to recycle wastewater to industrial standard and use it to supply clients in the Point Lisas Industrial Estate. The wastewater was being recycled and pumped into the sea. This project is the first to include water recycling among the nation's menu of technologies for water provision.
The Point Lisas Industrial Estate is one of the largest consumers of water, using approximately 23 million gallons of water per day. Any disruption to this water supply could have had a significant adverse economic impact.
Florida-Aquastore goals were to fabricate, ship and erect the two 5,300,000-gallons glass- fused-to-steel water storage tanks at Point Lisas in Trinidad and Tobago within six months while adhering to challenges with transport logistics and engineering/design requirements. The installed glass-fused-to-steel tank system provides approximately 10 million gallons of water per day to Point Lisas, helping mitigate future disruptions to their water supply and free-up water for additional distribution.
With the completion of the Beetham Water Project, the Industrial Estate at Point Lisas will benefit from a reliable and high-quality water supply, thereby diverting 10 million gallons per day of good-quality potable water to the national community, supplying over 150,000 people and positively impacting over 200,000.
Aquastore glass-fused-to-steel tanks were selected due to their quick installation time, competitive price, porcelain enamel coating that doesn't require re-coating, and lowest maintenance requirements compared to welded steel tanks being considered.
"The Beetham Water Recycling Plant is the Caribbean's largest water reuse project and Florida Aquastore is proud to be a part of it. We are pleased to have installed our Aquastore glass-fused-to-steel tank system that will provide the owner, The National Gas Company (NGC) and the Point Lisas Industrial Estate with a low maintenance storage solution for decades to come," said Matt Whelchel, President of Florida-Aquastore.
Benefits of CST's Aquastore® glass-fused-to-steel tanks:
No painting for life of tank

Will not corrode or rust

Lowest total life cycle cost compared to concrete & welded

Turnkey services from approval drawings to tank testing

Faster construction

No need for cranes or other large equipment for construction

Expandable

Interior & exterior easily cleaned

Tank can be easily relocated

Available in diameters from 11 feet (3.3 m) to 204 feet (62.2 m) and capacity from 20,000 gallons (75 cu m) to over 6 million gallons (22,700 cu m)

Specific tank designs, options and accessories to meet customer needs

Industry best warranty

White interior coating

Multiple color options

Authorized network of local Aquastore Dealers for convenient service and support
Geodesic aluminium domes are the preferred cover solution for any storage application. Aluminum dome structures are superior to other cover designs of alternate materials due to: Corrosion Resistance, Low Lifetime Maintenance Cost, Clear-Span Capability, Fast and Low Cost Construction and Design Flexibility.
---
Contact Information:

CST Industries, Inc.
844-44-TANKS
sales@cstindustries.com
Florida Aquastore
Matt Whelchel
Director President
561.994.2400
sales@florida-aquastore.com