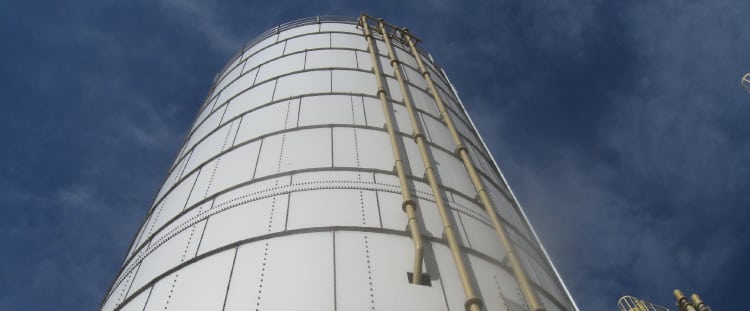 Our XL grain storage silos range from 38′ to 200′ in diameter.
Grain Storage Tanks and Silos
CST designs and manufactures tanks that will meet all your grain storage needs.  Our XL grain storage tanks range from 38′ to 200′ in diameter and can accommodate volumes of up to 2,500,000 cubic feet (2 million bushels).  Our tanks are designed to withstand the loads associated with heavy throughput and are used for:

Ground level storage

Elevated silos on steel structures

Load-out silos

Drive thru skirted tanks
Every CST tank comes with our proprietary factory-applied, baked-on Trico Bond EP® epoxy coating system which has been field proven in FDA and other food applications. CST's unique modular design allows for fast and easy installation on your site regardless of weather conditions and without heavy crane equipment.
Featured Projects
Dry Bulk & Liquid Storage Tanks

Architectural Covers

Aluminum Domes, Reservoir & Flat Covers