CST's API 12-B Monogram License Number is 12B-0004 for our Parsons, KS facility.
CST was the first certified API-12B Monogrammed tank manufacturer in the world.  When it comes to petroleum storage, no other tank manufacturer can compete with the decades of experience and thousands of successful installations of CST (formerly Columbian Steel Tank™, Peabody TecTank and Columbian TecTank®). 
Need immediate short or long term crude oil storage solutions?  CST's TecTank® API-12B offers the following benefits:
3 – 5 Week Lead Time From Order to Ship Date
100 to 10,000 Barrel Capacities with Larger Non-Monogrammed Capacities Available Upon Request
All Crude Oil Storage Tanks are Completely Coated Inside and Out with CST's OptiBond Coating Process
Excellent Corrosion Resistance and Immersion Performance
Custom Designs Available to Meet Specific Requirements
Built Strictly to API Standards and Audited by API Insectors to Ensure Compliance
Requires Less Site Preparation and is 1/3 of the Space Needed vs. Other Temporary Storage Options
EMR Rate Well Below Industry Average
CST originated its tank business in the oil industry.  We pioneered the use of bolted steel storage tanks for petroleum applications back in 1893.  Our engineers have a working knowledge of the industry and its standards and are well equipped to build the best tank value on the market with the lowest cost-per-unit volume stored. 
The API-12B Specification for storage of production liquids was designed to provide the oil production industry with safe and economical bolted tanks for use in the storage of crude petroleum and other liquids commonly handled and stored by the production segment.  Don't take a chance on products not certified for storing crude and other petrochemicals!
Applications: Crude Oil, Process Water, Water, Drilling Mud
Value Prop: Short lead time & fast install for small to large upstream & midstream applications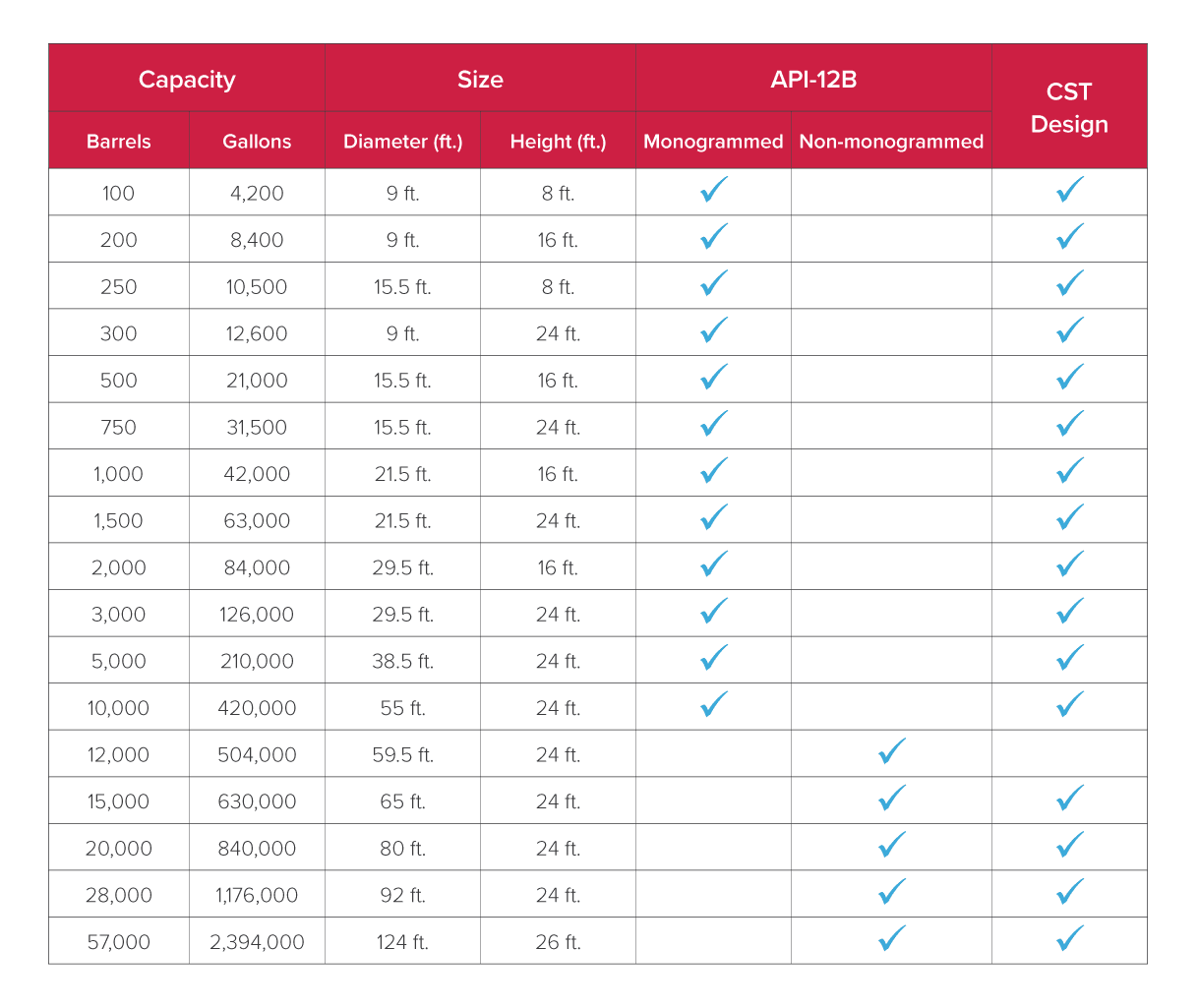 API-12B Principles: Larger tanks designed by CST to API-12B principles. Tanks designed to CST standards and optimized for best value.

Featured Projects
Dry Bulk & Liquid Storage Tanks

Architectural Covers

Aluminum Domes, Reservoir & Flat Covers